Oil & Gas Exploration & Production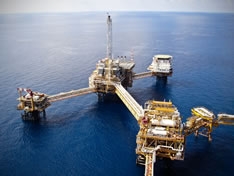 For nearly 50 years, Mobil have been an industry leader in developing synthetic-performance lubricants, offering innovations beyond the capabilities of conventional oils.
When conditions are severe, Mobil SHC lubricants have been proven to help extend the service life of machine components and reduce oil changes, as well as potentially reduce or eliminate equipment failure and unscheduled shutdowns.
Chemical Corporation's comprehensive stock of synthetic and premium mineral oil-based lubricants for energy exploration and production machinery, including engine, hydraulic, turbine, compressor, and gear oils, have all been designed for the diverse range of operating environments found in the industry.