The control of explosives precursors and poisons regulations 2023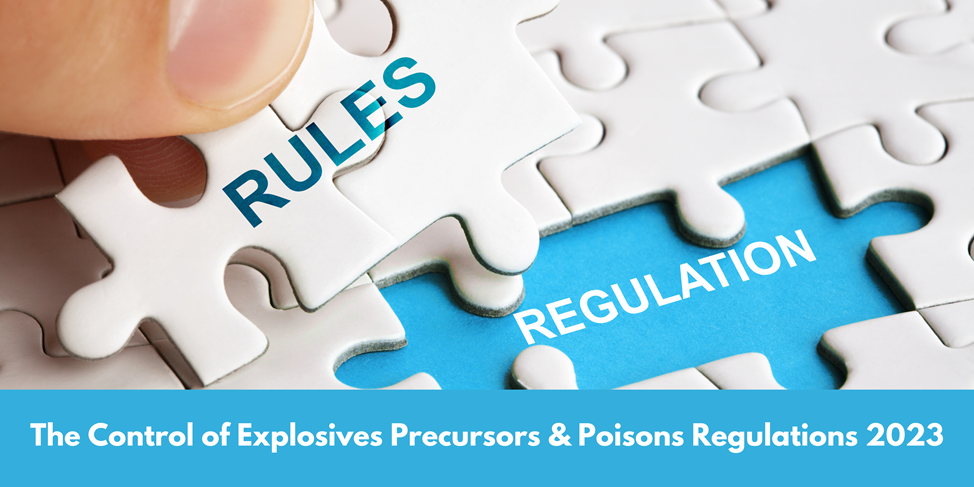 In response to the changes to the Control of Explosives Precursors and Poisons Regulations 2023 which come into force from 1st October 2023, our sales team will be asking customers to complete a customer statement when ordering regulated products.
This will apply to the following products:
Acetic Anhydride
Acetone
Aluminium Powder
Ammonium Nitrate
Ammonium Perchlorate
Barium Nitrate
Calcium Ammonium Nitrate
Guanidine Nitrate
Hexamine
Hydrogen Peroxide
Nitric Acid
Nitromethane
Perchloric Acid
Potassium Chlorate
Potassium Nitrate
Potassium Nitrite
Potassium Perchlorate
Sodium Azide
Sodium Chlorate
Sodium Nitrate
Sodium Nitrite
Sodium Perchlorate
Sulphuric Acid
Urea
Acetic Acid
Alcohol (Ethanol, Methanol)
Anything Chlorate or Perchlorate
Anything Nitrate
Calcium Hypochlorate/Hypochlorite
Citric Acid
Ethylene Glycol
Glycerine
Hydrochloric Acid
Lead Nitrate
Mercury
Methyl Ethyl Ketone
Pentaerythritol
Potassium Permanganate
Powdered Metals (Aluminium (AL), Magnesium (Mg), Magnalium (Al/ Mg) Zinc (Zn)
Sulphur
When ordering these products from us we will require the following ID evidence:
Either:
➢ A copy of your Explosive Precursor and Poisons (EPP) licence along with associated photographic ID.
Or:
➢ a form of photographic identification of the business customer or, if the business customer is not an individual, of the individual making the purchase;
➢ the business customer's VAT registration number, if the business customer has such a number.
The above information will be recorded/copied and retained** for 18 months and will be made available for inspection by the UK Home Office if required under the Control of Poisons and Explosives Precursors Regulations 2023.
** Chemical Corporation (UK) Ltd will ensure that all information held, will comply with the Data Protection Act 2018.