Mobil Delvac Light Duty - a new range of engine oils for light commercial vehicles
Delivering long engine life and excellent protection in city driving conditions, the Mobil Delvac Light Duty range is made for better business.
When the success of your business relies on the performance of your vehicle, choosing the right engine oil can be the difference between you and the competition - especially in the challenging conditions of start-stop, city driving.
The exciting new range of Mobil Delvac Light Duty engine oils is specifically designed to deliver long engine life, excellent protection and fuel economy retention - the reduced risk of breakdowns and vehicle downtime keeps you and your business moving forward. Ask us for more information on how Mobil Delvac Light Duty can enhance your business vehicle performance.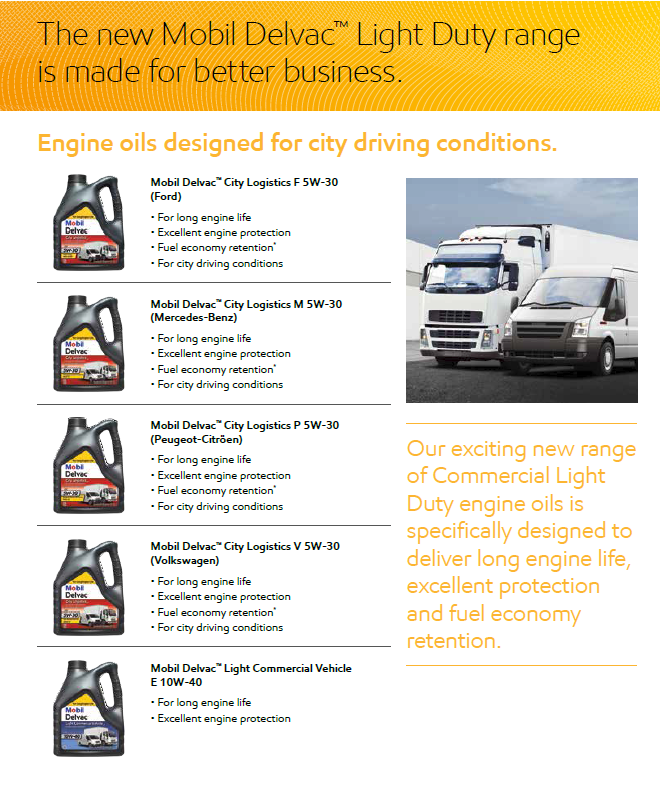 In addition to the Mobil Delvac Light Duty range, Chemical Corporation (UK) Ltd offers customers the complete spectrum of Mobil Delvac commercial vehicle engine oils.
Whether you are running Euro 6, Euro 5, Euro 4 or Euro 3 Trucks we can help you select the right product to meet the following OEM approval's MB 228.51, Volvo VDS 3&4, MAN 3477,3275, Scania LDF, Renault RLD 2&3.
This comprehensive product range is led by Mobil Delvac 1 LE 5W-30, a fully synthetic, supreme performance, low-ash diesel engine oil that helps extend both engine and emission system life, while providing long drain intervals and fuel economy potential in modern diesel engines.
Fuel represents a large proportion of commercial vehicles' operating costs. The Mobil Delvac ranges of synthetic engine oils, synthetic gear oils and greases have the potential to offer fuel economy advantages versus conventional lubricants. Why not run a trial to see how much fuel savings your fleet will save? Contact us now.

Watch the Palmer and Harvey Fuel Saving Case Study Video below: