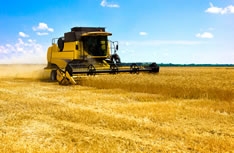 Farmers may not be able to control the challenging environment in which they operate, but they must still keep their time-critical operations on schedule.
One area you can control is keeping your equipment running at maximum performance with effective lubrication. That's why so many in the Agriculture Industry depend on high quality Mobil lubricants.
Mobil agricultural lubricants promote fuel efficiency, low emissions, superior performance and protection, are rigorously tested against, and meet or exceed, standards set by the world's leading independent bodies: ACEA (Association Of Construction Of European Automobiles), API (American Petroleum Institute) and OEM'S (Original Equipment Manufacturers) including John Deere, CASE, Massey Ferguson, Ford New Holland, Fiat, Caterpillar and Komatsu.