Industrial Lubricants
Industrial Lubricants, Oil Filtration and Oil Analysis
For over a century, Mobil Industrial Lubricants has been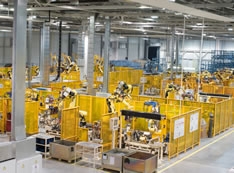 an innovator in lubrication technology and has manufactured breakthrough lubricants for all types of industrial machinery. This commitment to innovation has led to Mobil SHC range of products, Mobil's premier line of scientifically engineered synthetic high performance lubricants. Mobil SHC industrial oils have been designed for use in conventional gear boxes, wind turbines gearboxes, compressor oils, hydraulic oils, oils for food machinery, greases and circulation oils.
Chemical Corporation offers a wide range of Mobil's SHC industrial lubricants with the main aim of increasing customer productivity, lowering unscheduled down time and improving overall customer profitability.
Each Mobil synthetic lubricant brings longer oil life, longer equipment life, less used oil to dispose of, and potential energy savings. Other advantages include high-temperature capability, excellent resistance to oxidation, low-temperature flow properties, and protection against wear.
Chemical Corporation has a highly experienced Industrial sales team as well as a specialist Lubricant Engineer who will undertake customer site surveys.
Oil Analysis
Chemical Corporation (UK) Ltd offers a state of the art oil analysis service that gives customers valuable information regarding the condition of the equipment in use. Customers can build a trend analysis system for all their equipment that can ultimately result in less down time and better productivity
Factory and Manufacturing Site Surveys
Ian Millerchip is the Lubricant Engineer at Chemical Corporation (UK) Ltd. Ian has undergone extensive training in oil analysis and has a 29 year background in industrial lubricants across numerous business sectors and industrial applications. He has passed the Lubricant Management & Analysis Course Category One (ISO 18436-4) provided by Alcontrol Laboratories.
Ian is available to visit customer sites, manufacturing and process plants and to offer advice on all issues onsite relating to lubrication, oil analysis, safe storage methods, safe product handling, and rationalisation of the products in use. Inspections like this are invaluable to customers and help to reduce and improve their stock inventory of products used.
If you would like a confidential discussion or advice relating to oil analysis in the UK please contact our Customer Services Department on 02920 880222.
Spill Kits & Storage Solutions
Chemical Corporation (UK) Ltd offer customers a superb range of spill kits and storage solutions that can be custom designed to suite your plants site's specific needs. Whatever your need or situation we can match you with a perfect solution to address your requirement. Speak to your Account Manager to see our full range of Spill Kits and Oil Storage Solutions.