Fold productivity into paper With Mobil SHC synthetic Paper Machine (PM) lubricants
Whether you are producing newsprint, fine papers, or corrugated board, in the pulp and paper industry optimizing your equipment availability is vital to maximizing productivity. You need your machines to deliver continuously. And with paper machinery operating at speeds over 2,000 m/min and steam temperatures exceeding 200°C (392°F), your equipment is under a lot of pressure.
Mobil SHC PM Series and Mobilith SHC PM Series −engineered to satisfy the wide range of pulp and paper applications and conditions.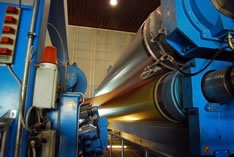 Our full family of supreme-performance synthetic circulation oils and greases is designed to stay on the job significantly longer than conventional mineral oils. Formulated with leading-edge synthetic technology and application expertise, these products can help increase equipment availability at a time when minimizing downtime and optimizing operating expenses has never been more crucial.
Additionally, we offer a comprehensive line of synthetic and premium mineral oil-based lubricants for paper machinery, including hydraulic, compressor, and gear oils, all designed for the diverse operating environments found in pulp and paper processing.