Gas & Steam Turbines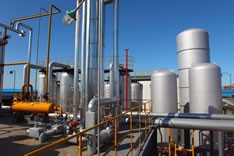 Chemical Corporation offer customers a wide range of premium turbine lubricants designed to offer excellent deposit control for uninterrupted operation and long service life, Mobil lubricants and greases will help keep your power plants operating to maximum efficiency. Backed by extensive builder approvals and proven field performance.

Thoroughly tested before they are commercialized, Mobil industrial lubricants and greases are well supported by equipment builder approvals. For example, the Mobil DTE 800 Series, our top-of-the-line turbine oils, was formulated for specific high-efficiency combined-cycle turbine applications.
Mobil DTE 700 Series surpasses 17 industry and equipment builder specifications for gas and steam turbines.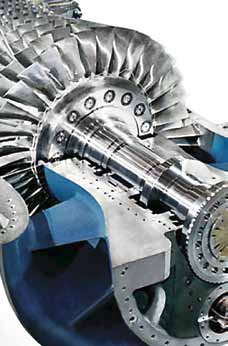 New Mobil DTE™ 932 GT high-performance oil for gas turbines provides long oil life for turbines using a common fluid reservoir for both bearing and hydraulic systems. Mobil DTE™ 932 GT is an advanced-performance turbine oil specifically designed for use in large-frame gas turbines employing a common lube reservoir under severe operating conditions. It is based on selected high-quality base oils carefully balanced with a proprietary additive system to provide long oil life along with outstanding keep-clean performance. Mobil DTE™ 932 GT also delivers wear protection and load-carrying performance required for geared turbines.
ExxonMobil Fuels & Lubricants has introduced a new high performance turbine oil, Mobil DTE™ 732 M, designed for use in Mitsubishi Heavy Industry (MHI) non-geared single shaft heavy duty gas & steam turbines, and multi shaft gas turbines. This new lubricant is approved by MHI and meets MHI's highest specification, MS04-MA-CL005.
Mobil DTE 732 M is a multi-use, high performance oil and is the latest addition to the Mobil DTE™ 700 Series. Extensive tests have demonstrated Mobil DTE 732 M's ability to "help" enhance system cleanliness, deliver exceptional thermal stability and minimize varnish formation, all of which are critical for turbine durability and performance.
Technical Information:
Mobil DTE 732 M meets the following builder and industry specifications:
MS04-MA-CL001
MS04-MA-CL002
MS04-MA-CL005
JIS K-2213 Type 2
Mobil DTE 732 M meets the full range of MHI turbine requirements and is compatible with in-service Mobil DTE 732.
Mobil DTE 700 series lubricants surpass 17 industry and equipment builder specifications for gas and steam turbines.