The 2020 Formula 1 Season will restart in Austria this weekend after a four-month delay as a result of the Covid-19 global pandemic. The debut race of the season will get underway in Red Bull's home country which should be a great boost to the Aston Martin Red Bull Racing team. The eight-race F1 begins in style, with Max Verstappen and Alex Albon at the wheels of the RB16.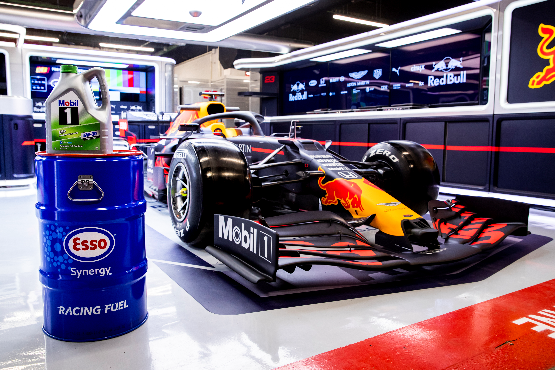 As Technical Partner of Aston Martin Red Bull Racing, ExxonMobil has been putting the off-season time to good use ensuring that test fuels and lubricants are ready to go and blended come the delayed start of the season, as Global Motorsports Technology Manager, David Tsurusaki explains:
"We were well prepared and ready to go for the initial start of the season in March. We had our specially designed fuels and engine oils ready to go and we were confident we had performance to offer the team in Melbourne. We have used the delayed start to build on that, continue to develop our products, and ensure we are fully prepared for this weekend in Austria.
"We're also fortunate that, as a result of our ongoing efforts alongside our race partners Honda and Aston Martin Red Bull Racing, we have potential new fuel formulations already prepared. We're in a great place and are eager to see the RB16 competing at the front of the grid," he added.
ExxonMobil has stepped up its production of isopropyl alcohol, used in hand sanitizers, as well as production of plastics and coatings required for the personal protective equipment so desperately needed around the world. ExxonMobil facilities across the globe are keeping production going to ensure the energy needed for vital industries is available, alongside fuels for transportation of goods and services.
ExxonMobil is also unveiling a new trackside laboratory in Aston Martin Red Bull Racing 's garage in the paddock' this weekend. The Tracklab is a state-of-the-art mobile laboratory where ExxonMobil technicians test and monitor Mobil 1 lubricants and Esso Synergy race fuels helping ensure performance and reliability. The Tracklab will monitor used oils throughout the race weekend in Austria and ensure fuel remains consistent quality in order to maintain optimal efficiency & performance.
"The racetrack is the ultimate proving ground and improvements in our ExxonMobil Tracklab make it more efficient with new tests and expanded capacity," said Tsurusaki. "Racing continues to be an area where ExxonMobil can test new ideas, pushing the performance and efficiency of our fuels and oils, ultimately leading to improvements in the fuels and oils we sell to customers around the world."
Aston Martin Red Bull Racing begin their first practice session this Friday.